Tools to See Workshop Series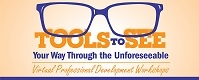 July is professional development month at NEAIR!
The Professional Development Services Committee is excited to offer Tools to See Your Way Through the Unforeseeable virtual workshops. These professional development workshops will each last 1.5 hours and are technical in focus.
Given the financial duress caused by the coronavirus pandemic, NEAIR leadership has priced these webinars to be affordable for everyone at $29 for NEAIR members; $59 for non-members.
NEAIR will not refund any workshops, but will issue a credit in the event there are technical difficulties.